Chalet Větrník and the surrounding environment of the Czech Giant Mountains is a great oportunitty for charming mountain holiday – ideal for families with children, active tourists, or for just a comfortable weekend stay.
Chalet Vetrnik offers accommodation for up to 6 adults + 1 child in a individual cottage in the picturesque surroundings of the Giant Mountains, in the village named "Čistá v Krkonoších", in a close proximity to the village of Černý důl (2 km), Janské lázně (9 km), Pec pod Sněžkou (22 km) and also within driving distance to Špindlerův mlýn (24 km). Giant mountains Nation Park is just 2 km away. The chalet is part of the Villapark Happy Hill® complex.
---
Do you want to experience the captivating beauty of the Giant Mountains, enjoy privat accommodation with only your loved ones, have the comfort of an equipped complex and peace and quiet for various activities?
Chalet Větrník is here for you!
The Čistá locality is an ideal starting point for an active family holiday in the Czech mountains, popular for their diversity, many attractive places and a wide range of services of all categories. The Větrník Chalet will give you a holiday you will fondly remember !
The cottage is usable all year round with a capacity for up to 6 adults and 1 child under 10 years. There are tree double bedrooms with double beds and additional bunk bed in one room.
Chalet amenities
Ground floor – fully equipped kitchen, dining table for 6 people, living room with TV and entrance to the terrace, toilet, utility room
Upper floor – 2x double room with twin beds, 1x quadruple room with bunk bed, 1x bathroom with toilet and bath, washing machine
Terrace – with garden furniture and exit to the grassy garden, only 30m from the heated large pool and only 30m from the nice wooden playground
2x parking space in front of the cottage
The kitchen is fully equipped with crockery, oven, kitchen hotplate, big fridge, microwave, kettle and drip coffee machine and quality dishwasher
Large LCD TV with satellite reception of standard CZ/DE/PL channels
In the villapark there is a heated 15m swimming pool and a playground with a nice bigger castle, swings, trampoline, ping pong tables, garden seating, vast grassy areas for any games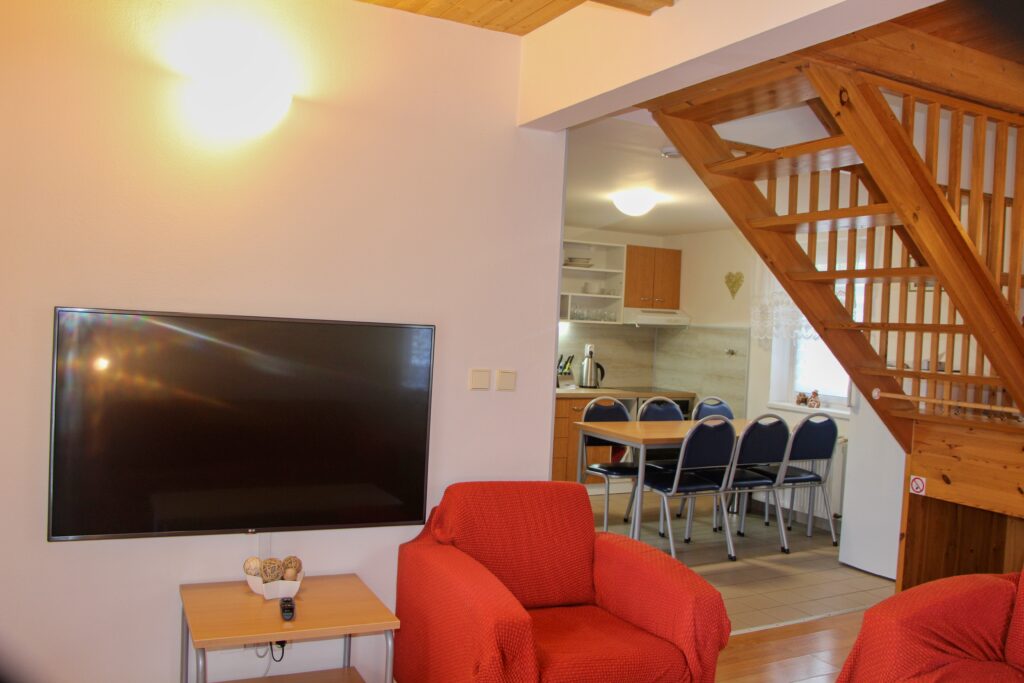 ---
Tips on trips
Trail through the treetops
From roots to tree crowns in the heart of the Krkonoše National Park. A unique view from the surroundings.
St. Barbara's Nature Trail
A hiking circuit of the town of Černý Důl.


SKI resort Černa hora
Largest skiresort in Czech republic.
All year lifts, scooters, electric bikes, children's park and much more…
---
Berghaus Mining Nature Trail
The trail depicts the rich mining history of the region.

Limestone quarry

A circuit walking trail that leads around the still active limestone quarry in Černý Důl with a unique freight cable car.

Sněžka

The mountain with its 1603.3 m above sea level is the highest not only in the Krkonoše Mountains, but also in the whole Czech Republic.